10 Questions Managers Ask To Build Accountability In Autonomous Teams
The importance of great
behavior in team members
cannot be understated in any circumstance. Accountability and autonomy are two related qualities instrumental in building team success. Teams that constantly outshine others and achieve unanticipated goals practice these two habits. Accordingly, as a manager, it is important to build these behaviors in your team. However, it can be challenging to find ways that are implicit and efficient. Asking questions is one way to do this. Wondering how? Keep reading! Regarding accountability and autonomy in the workplace, questions are a powerful tool that managers can use to get employees on board with their goals and objectives. But how can managers use questions effectively to build team accountability and autonomy? This blog explores the concept in depth, explaining how questions can help managers build accountability and autonomy in their teams. Will you be able to build accountability and autonomy in your team with the help of questions? Read on to find out!
What Do Accountability And Autonomy Mean In The Workplace?
Accountability:
Accountability is the responsibility that employees have to meet certain goals and objectives set by their managers. This includes taking appropriate actions, completing tasks on time, and following instructions effectively. In addition, employees are also held accountable for their actions and contribution to the team. This means that if they make mistakes, it is up to them to take responsibility for them.
Autonomy:
Autonomy is the freedom or right to do what someone wants without being controlled by another person or entity. It includes making decisions without being constrained or influenced by others, controlling their work schedule, and ranking in the organization. It allows employees to make decisions for themselves to improve their work performance. Importantly, autonomy allows employees to take ownership of their work outcomes and remain engaged in the process. Nonetheless, the degree of autonomy is a perpetual conundrum for managers. Read here to understand the
pros and cons of giving autonomy
to make an informed decision. These two concepts are closely related because good autonomy allows employees to be productive and successful while meeting managerial expectations. Accountability and autonomy together form a foundation on which teams can build trust, collaboration, and performance. Continue reading here if you are looking for more
ways to build personal accountability in your team members
.
The Benefits Of Asking Questions
Asking questions is an effective way to build accountability and autonomy in a team. The following are some of the benefits of asking questions:
Questions help employees understand their tasks and responsibilities: When employees know what they need to do, they are more likely to take action and meet deadlines. This is because it becomes clear which tasks need attention, and these become manageable for them as opposed to being mysterious or confusing。
Questions also help managers get feedback from employees on their work performance: By asking specific questions about how things are going, managers can see whether the employee is meeting expectations and whether any areas need improvement.
Questions can help build trust between employees and managers: When employees know they can ask questions without fear of reprisal, they feel more comfortable expressing their concerns and working collaboratively with their manager. This allows for a smoother flow of communication, leading to better work performance。
Questions also help supervisors develop a rapport with their team members: By talking openly about issues and giving feedback in a supportive manner, supervisors enable team members to take responsibility for their growth while maintaining the professional relationship necessary for cooperation in the workplace. When you ask questions, it allows your team members to express their thoughts and feelings openly – something that can benefit morale and creativity.
Questions help employees see things differently: One of the benefits of asking questions is that employees are often able to see things in a different light. This can lead to breakthroughs in problem-solving and innovation because employees are not afraid to explore new possibilities or question old assumptions.
Questions are a great way to get everyone's input and improve teamwork: Managers can use them to ask for ideas, feedback, and directions. But be careful not to interrogate too much, or you'll lose their attention. Instead, use questions that make people think and are challenging but not too hard. It will help them grow as professionals and contributors to the team.
Asking good questions is also key in building accountability and creating autonomous teams. Use questions to gather feedback, measure progress, and find solutions to problems. There are many ways to use questions in your work, so it's important to find the right way that works best for you and your team.
Types Of Questions
Building accountability and autonomy in your team can be a challenge. But it's not impossible with the right questions. Here are four types of questions that can help:
Yes/No Questions: These help people agree or disagree on a specific topic. Further, these are an easy way to create clarity out of chaos. Often people might need to ask themselves a simple question to understand their opinion and position on the situation.
Open Questions: These ask for opinions or ideas without specifying a response. Managers can use this to gather everyone's thoughts on a situation or question. It also allows for more creative thinking and less judgment.
Questioning Processes: By questioning how things are done, you can improve processes and make them more efficient overall. This is essential in creating accountability because it ensures everyone understands what needs to happen.
Informational Questions: Help people learn more about a subject. These are great to clarify duties and job roles among employees who might need time to get the hang of things.
Challenge Questions: Encourage individuals to take action on a problem or challenge they face in their work. In addition, these can also be used to help people learn and grow by thinking in new ways.
When it comes to building accountability in your team, using questions is a great way to start. By asking thoughtful questions that encourage clarity, you can create an environment where everyone is held accountable for their actions and results. Moving further, let's look at a few questions you can use with your team.
10 Sample Questions To Ask Your Team To Build Accountability & Autonomy
What did you accomplish today?
This question will show employees their day-to-day achievements. They will become accountable for their daily goals and the progress made on them.
What does success look like?
When employees are allowed to define the objectives, they will participate more actively in forming the strategies needed to achieve them. Taking opinions and increasing involvement at the brainstorming stage boosts confidence and raises autonomy.
What was your most significant challenge in the past month?
Describing the difficult parts of their jobs will help employees gain clarity. Further, they would like to define the challenge as their "own," taking ownership of the job.
How would you feel if we changed how this is done?
Involving people in the deliberation stage helps foster independent behavior as they learn to voice their opinions and ask questions during the process.
What steps do you think we should take to achieve our goal?
Employees who take charge of the planning and organizing will begin to create autonomous units and processes. Moreover, they will become answerable for those things as they take control.
What are your thoughts on this situation?
Asking employees for their opinions will motivate them to engage with the team actively. This will change them from being passive actors in the team's goals. This question can help you encourage autonomy and accountability in the team members.
How can we improve our process?
Making amendments to the processes and methods that the organizations follow is a great way to give a chance to employees. They will learn to organize independently and take ownership of the results achieved.
Why did you choose that action over the other options?
Asking such a question will force the employees to weigh the pros and cons of the various options. They will learn to make well-thought choices before acting upon them. While doing so, you are holding them accountable for their actions. This is one way to create accountability among people – by making it a habit.
Why Should You Use Questions To Build Accountability & Autonomy?
Questions are one of the most powerful tools in your arsenal as a leader. Managers and leaders can use them to assess knowledge, skills, and performance regularly. This allows you to identify areas of improvement and create accountability and autonomy in your team. Use questions to make decisions by asking someone how they think the team should do something. It gives them a voice in
decision-making
and helps them learn and understand new information. Moreover, they are a way to keep
employees engaged
with the team. As a result, questions are essential for building a successful team. Questions are a powerful tool. They can help you achieve accountability and autonomy in your team and foster communication and collaboration. When used effectively, questions can help you learn more about your team, their work, and their goals. However, make sure to ask the right questions that will help you achieve your goals. Questions should be open-ended and allow for discussion. Additionally, make sure to ask questions that will help you learn more about your team and their work. By doing this, you'll be able to better direct and oversee their efforts.
Conclusion
Questions are an essential tool for building a successful team. By asking questions that help you achieve accountability and autonomy in your team and foster communication and collaboration, you'll be able to better direct and oversee their efforts. You can help team members understand their individual and collective responsibilities and help them to take ownership of their work. Make sure to ask the right questions that will help you achieve your goals. Different types of questions can be used to achieve this goal, so be sure to choose the right ones for the situation. Finally, use these tips to ensure that your team members are accountable and autonomous in the best possible way!
Learn how to ask the right questions to hold your team accountable.
Get the free active listening toolkit to access sample questions that you can use with your team.
---
What are some questions about self accountability?
Questions for self-accountability help managers keep themselves in check. A few such questions are:
– Am I working toward my goal or spending time on secondary tasks?
– Are my goals realistic?
– Do I solve problems independently or with my team?
How do you test accountability?
A manager can test accountability in their team by establishing ownership over tasks. It is crucial to define and allocate tasks so that key results are derived by specific people. Asking questions is one way to keep checks in the middle of the process.
How do you coach accountability?
A few steps that managers can take to coach accountability are:
– Identify and communicate expectations to team members
– Set milestones for teams to accomplish and create a system of checks and balances, such as regular updates and documentation
– Re-evaluate goals as and when needed to build accountability
---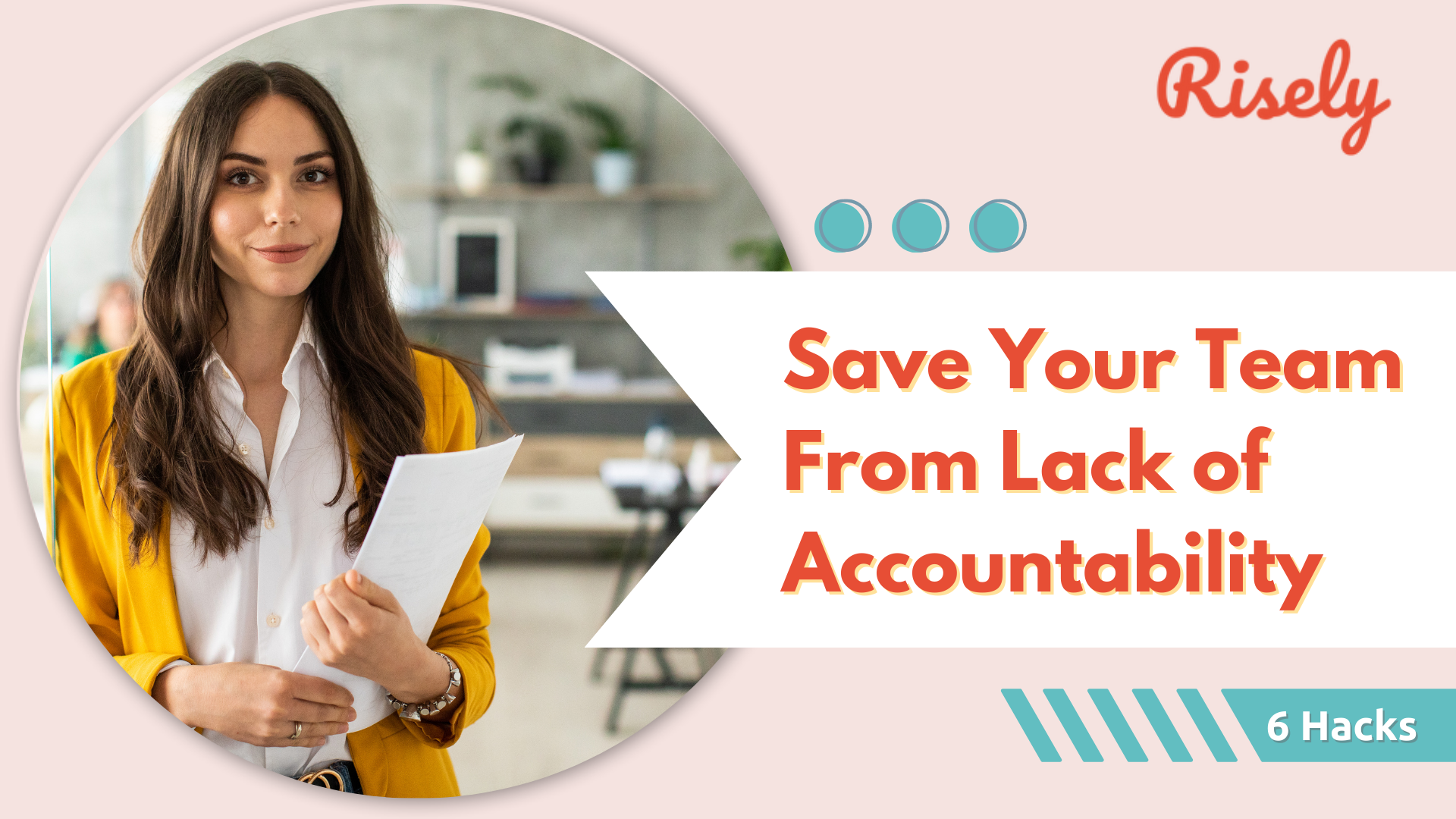 Use these 6 Hacks to Save Your Team From Lack of Accountability As a manager, you want your team to be productive and efficient. However, you may have experienced situations…
8 Proven Tips For Becoming A Results-Oriented Leader As a leader, it's essential to be result-oriented. It refers to focusing on what your team can achieve and not just on…